Export From Outlook Express To Outlook With DBX Converter

Export from Outlook Express to Outlook in a safe and secure process of conversion with the help of our DBX Converter. The Outlook Express to MS Outlook Conversion software allows the users to transfer email from Outlook Express to Outlook of Microsoft in a successful process without performing any deletion of database in the process of performing either conversion or recovery. The software is designed with highly upgraded technology that helps users initiate a safe and sound process of conversion as well as recovery of DBX format database of Outlook Express mail client. The tool is also available in a free of charge demo version that allows the users to preview the process of Outlook Express export to Outlook email client.
Lineament For Database Import From Outlook Express To Outlook


The Outlook Express to Outlook conversion software fruitfully helps the users to export mail Outlook Express to MS Outlook email with a secure process of conversion that ensures "no-data-deletion".
This tool is enriched with a high level of progressed technology that prevents metadata deletion and in fact helps the users to sustain the metadata of the DBX format files throughout the recovery or conversion process.
This DBX Conversion software is capable of recovering the corrupted DBX files and converting them into healthy DBX files.
The users can export messages Outlook Express mail client's DBX files into PST as well EML file format with the help of this tool that performs Outlook Express export mail into MS Outlook mail client.
This tool responsible for database export from Outlook Express to Outlook mail client successfully supports all the versions of Outlook Express as well as the entire editions of Microsoft Outlook email client.
Free of cost version of the software that demonstrates the process of conversion prior purchasing the software by converting the initial 15 files of each folder of the Outlook Express email client.
For FREE Demo Version –Click Here:
Demo version of the DBX Converter Software converts only 15 Outlook Express Email Meta data to Outlook PST MSG EML RTF file with full version of the software unlimited export from Outlook Express to Outlook 2003, 2007 & 2010 (32.bit).


"It is one of the most widely used Outlook Express Conversion Software by Home Users, Computer Technicians, System Administrators, R and D Institutes, Academic Institutes, Defense Establishments etc"
Screenshot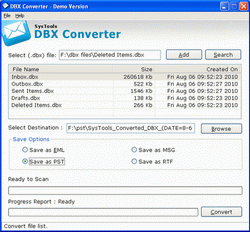 100% Money Back Guarantee